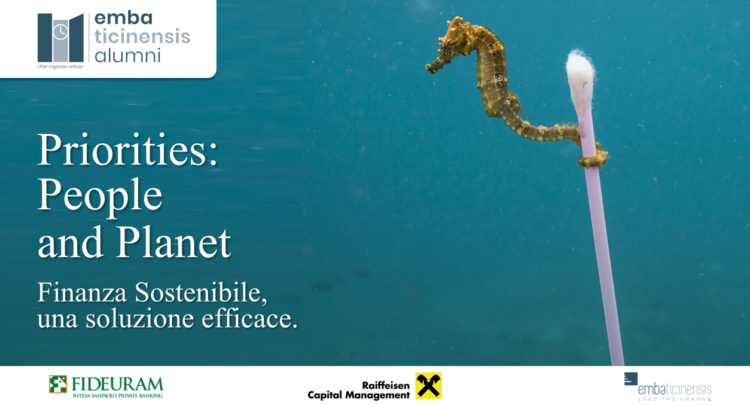 Evento – Priorities: People and Planet
Priorities: People and Planet.
9 giugno 2022 – Contribuire a una società più equa, inclusiva e sostenibile è un dovere e un obiettivo costante che ogni individuo, azienda, istituzione deve oggi perseguire.
ll riscaldamento del pianeta ha effetti diretti sulle nostre vite e sulla nostra salute, dall'inquinamento, alla fragilità idrogeologica, all'innalzamento del livello dei mari ma anche il divario sociale, dalla povertà e alla disparità di genere.
Abbiamo avuto l'onore di coinvolgere due personalità della finanza esperti nel campo: Fabio Cappa, ESG-SRI Institutional Clients – Raiffeisen Capital Management, e Gianluca La Calce, Responsabile Marketing e Sviluppo Offerta – Fideuram Intesa Sanpaolo Private Banking per una speciale lectio magistralis, con l'obiettivo di contribuire a diffondere una cultura orientata alla salvaguardia del nostro pianeta e illustrare come la Finanza Sostenibile possa essere una delle soluzioni più efficaci.
Perseguire lo scopo comune di sostenibilità sociale ed ambientale richiede un approccio nuovo in ogni ambito: digitale, salute, energia, aerospazio, cloud computing, agricoltura, scuole ed educazione, protezione dei territori, biodiversità, … una sfida poliedrica che ci spinge ad essere sempre più protagonisti del nostro tempo ed è proprio per questi motivi che l'appuntamento, pensato per i corsisti dell'Executive MBA Ticinensis, ha aperto le porte dell'Aula Magna del Collegio Ghislieri di Pavia a tutti, nella duplice modalità di presenza e diretta streaming, perché forte è il valore di giveback che si voluto esprimere verso una collettività che necessita di ponti e connessioni per lasciare in eredità alle prossime generazioni un futuro migliore.